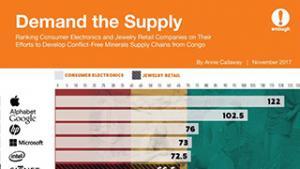 US NGO Enough Project has published 'Demand the Supply', including its 2017 conflict minerals company rankings, commending Apple as a 'clear leader', in particular receiving full credit for identifying and tracking supply chain incidents. As detailed in Apple's 2016 SEC filing, much of this work was carried out in cooperation with the ITSCI programme.
Enough is focussed on ending conflict in Africa including breaking the link between war and illicit profit. It has been regularly ranking companies on due diligence in sourcing responsibly from DRC since 2010, using a set of criteria designed to fairly identify areas for improvement as well as highlight real progress. Four core categories included basic due diligence and reporting, developing responsible sourcing, supporting artisanal miner livelihoods and responsible sourcing advocacy.
Twenty of the largest companies in electronics and jewellery supply were included in the rankings. Apple scored 114 out of a possible 120 points, plus an additional 8 point bonus, with Alphabet Inc, Google parent, ranking second with 102.5 points. HP, Microsoft and Intel were also in the top five but after that electronics companies 'took a steep dive' with the next ranking Panasonic scoring only 42.5 points.
The consultation specifically asked companies about how they followed up with traceability and due diligence programmes such as ITSCI, to help increase transparency. ITSCI and other programmes 'play an increasingly important role' in providing systems to ensure that responsibly sourced minerals can be traced from mine to smelter and eventually to end users. This includes oversight on risk incidents, publishing detailed data that can be used by downstream companies to gain important insights, including reports of local stakeholder committee meetings seeking their resolution.
Enough research found that only two companies, Apple and HP, indicated that they had also followed up with ITSCI and others to work through to incident resolutions. This effort is detailed in Apple's 2016 SEC filing, reporting their review of 1,300 incidents, following up on those that had not yet been resolved. ITSCI was pleased to work closely with Apple to assist.